Eudora Pro 4.2.2 Setup Instructions

Versions of Eudora earlier than 4.2.2 are not compatible with SMTP-Auth and therefore will not work with Chesapeake.Net's Email service. Please follow the step-by-step instructions below to configure Eudora Pro 4.2.2 to work with your Chesapeake.Net e-mail account. Please note that these instructions apply specifically to Eudora Pro version 4.2.2, but should remain relatively consistent with all 4.2.x versions of Eudora Pro. When in doubt, refer to Eudora Pro's online help to aid you in finding exact setting locations.
---
Select

Tools

, then

Options

, from the Eudora Pro Menu Bar as shown in the illustration below.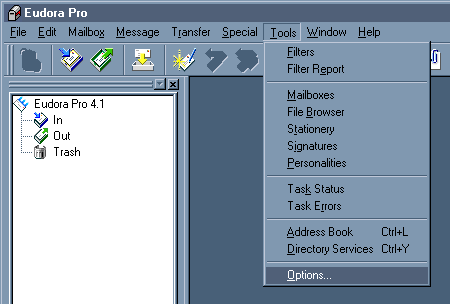 ---
Enter the information required in the

Getting Started

window as shown in the illustration below. Note that your "

username

" is your email account username as listed on your

Chesapeake.Net

Account Setup Information sheet.

You may enter anything you wish into the

Real Name

field, though your full name is recommended. This name identifies the name of the person sending email using Eudora Pro, and will appear in the From field of any email sent from this program.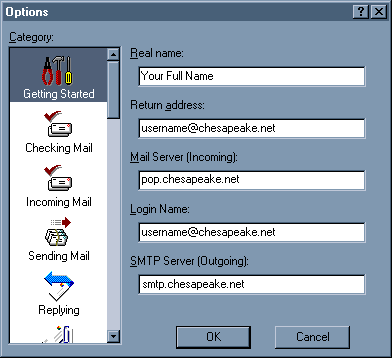 ---

Many of the settings in the

Incoming Mail menu may be set to your personal preferences.

The

Server Configuration

must be set to POP and the

Authentication style

must be set to

Passwords

, however, for you to successfully log on to the mail server.

Failure to select POP in Server configuration or Passwords for Authentication style will result in being unable to log on to the mail server

.

You should also avoid setting Eudora Pro

Leave mail on server

unless you will be checking your account from multiple workstations - in which case at least one of the workstations from which you check your mail should not be set to

Leave mail on server

.

We also advise against setting the

Skip messages over x K in size field

unless you are checking e-mail from multiple workstations as well. If you will be checking your mail from multiple workstations, at least one should not be set to

Skip messages...

or your mailbox may fill up and your service will be interrupted.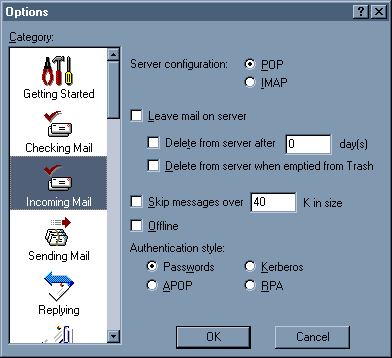 ---

Most of the settings in the

Sending Mail menu may be set to your personal preferences. The

SMTP Server

must be set to

mail.chesapeake.net

as illustrated below however, or you will be unable to send messages from your account.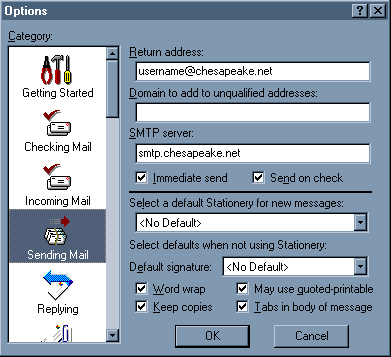 ---

The settings in all other sections of Eudora Pro may be set to your personal preferences. In you are not sure what a particular setting does, refer to the Eudora Pro online help for guidance and information.

To enable SMTP AUTH you will have to edit the "eudora.ini" text file which is located in the eudora's directory.

First quit your eudora, then open "eudora.ini" in your favourite text editor.

On the top of the file, you will see something like this:

[Settings]
SMTPServer=smtp.chesapeake.net
SMTPPort=25
AsyncDatabase=0
AsyncWinsock=0
NC=1
Code=NC
POPAccount=myemail@pop.chesapeake.net
RealName=Your Real Name
ReturnAddress=myemail@chesapeake.net
DomainQualifier=
PopServer=pop.chesapeake.net

etc...

To activate SMTP AUTH add 2 following lines, just below the [Settings] line:

SMTPAuthRequired=1
SMTPAuthAllowed=1

Now start Eudora and everything should work fine. Eudora works best when you have the same password on the SMTP server as on the pop server because it's hard to distinguish between smtp and pop3 password dialogs. Also you should have THE SAME login on both (smtp and pop) servers.
---
Please contact us at support@chesapeake.net if you require further information or assistance with yourChesapeake.Net e-mail service, or call our Technical Support staff at 1-877-259.8436..
All content and images copyright Southern Maryland Internet, Inc.